Brand & Corporate Event FAQs
Brand and Corporate Event Photography FAQs
Our deep experience with brand and corporate events helps us create a curated and focused collection of images that is visually compelling while highlighting your overall goals. Need to show attendees looking at and interacting with a specific product? We will set that up for you. Need staged portraits of your branded staff? We will use professional lighting so the image has a commercial flair to it. Need ambiance and lifestyle photos? We know exactly what vantage points will work best to create clean, uncluttered and helpful imagery to support these goals.
Questions that help us price your event include:
Total number of expected attendees?
Total number of hours needed per day?
Is there a shot list? If not, let's discuss desired photos so we're sure to capture those.
Do you need images same-day or is delivery in 1-3 days OK?
Total number of images needed per day? Some clients want the best 40, others want a full edit.
We'd be happy to chat through your event via phone, so email or call us anytime.
dina@andrenaphoto.com or 323-447-8840
We have had the great privilege of working with the following brands and clients (list after logos):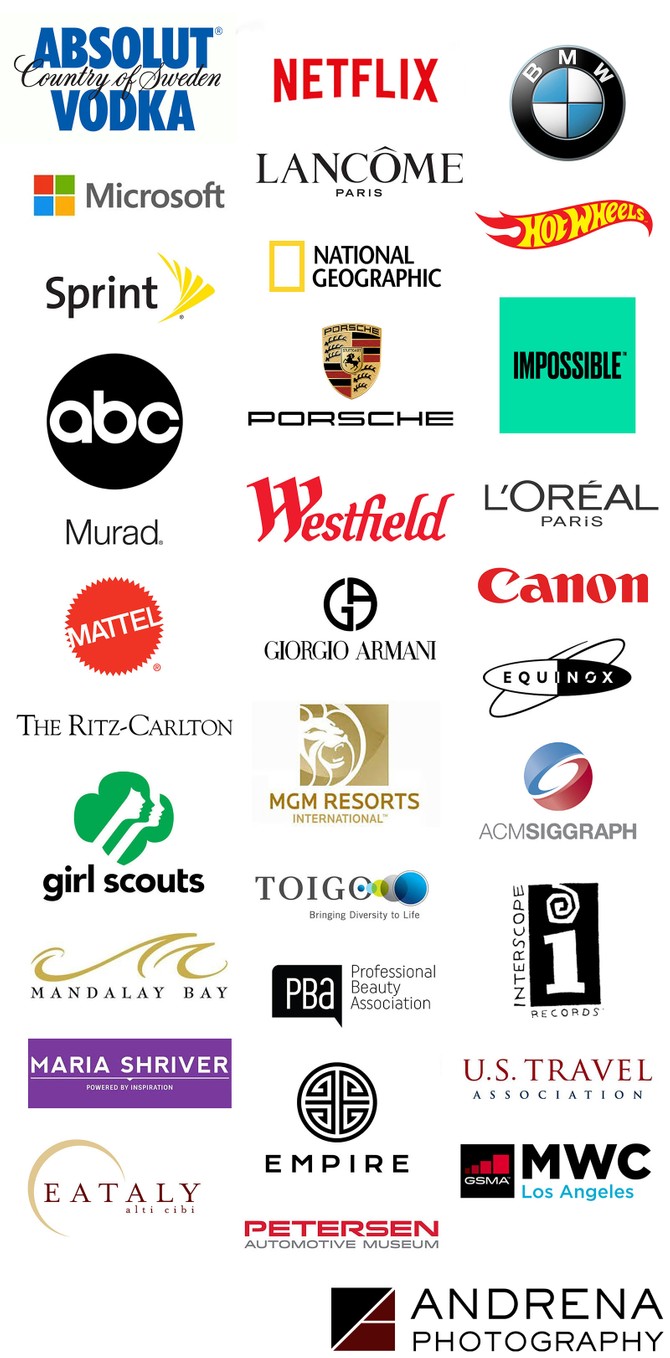 PARTIAL CLIENT LIST
Absolut Vodka
Aliana Events
Ariana Grande
Armani
Beverly Hills Plastic Surgery
BMW
Canon
Chris Brown
Dr. Gabriel Chiu and Christine Chiu
Dress for Success Worldwide
Eataly
Enigma
Empire Records
Equinox
ER Productions (UK)
The Ghetto School
Giacomino Drago Restaurant Group
Hades Footwear
Hot Wheels
Hurtigruten
Images by Lighting
Impossible Burger / Impossible Foods
Integrated Healthcare Association
International Event Company
Interscope Records
KevOnStage
L'Oreal
Lancome
Lil Wayne
Luxe Linen
Mandalay Bay Resorts
Maria Shriver – Women's Alzheimer's Movement
MGM Resorts International
Microsoft
Migos
Murad
Offset
Ozzy Osbourne / Ozzfest
Patrick Ta Beauty
Petersen Automotive Museum
Porsche
Professional Beauty Association
Quavo
Rayce PR
Revelry Event Designers
Ritz-Carlton Hotel Company
Shawna Yamamoto Event Design
SIGGRAPH Conference
Sprint
St. Regis Hotels & Resorts
Takeoff
Tame Impala / Coachella
Toigo Foundation
Tricia Smith Brown
Unibail-Rodamco-Westfield
U.S. Travel Association
Vanity Group, The
Waldorf Astoria Beverly Hills
Weingart Foundation
Wendy Williams Show, The
Westfield
COPYRIGHT NOTICE
Copyright 2020-2021 by Dina Douglass. All rights reserved. Content actively monitored for copyright infringement.