Like most engagement session photographers in Los Angeles, I don't always have time to blog e-sessions, but that's just so sad, because there are so many gorgeous ones. I thus thought I'd do a post featuring highlights from a few recent shoots (10 of them, to be exact). More posts on their way.
Olyea & Samir

This engagement session ended with a policeman taking down all my information. But other than that, I really enjoyed shooting with Olyea and Samir. I'm hoping to meet Olyea's sister when I visit Russia next week. This lovely couple will be married at the end of July at the Huntington Beach Hyatt.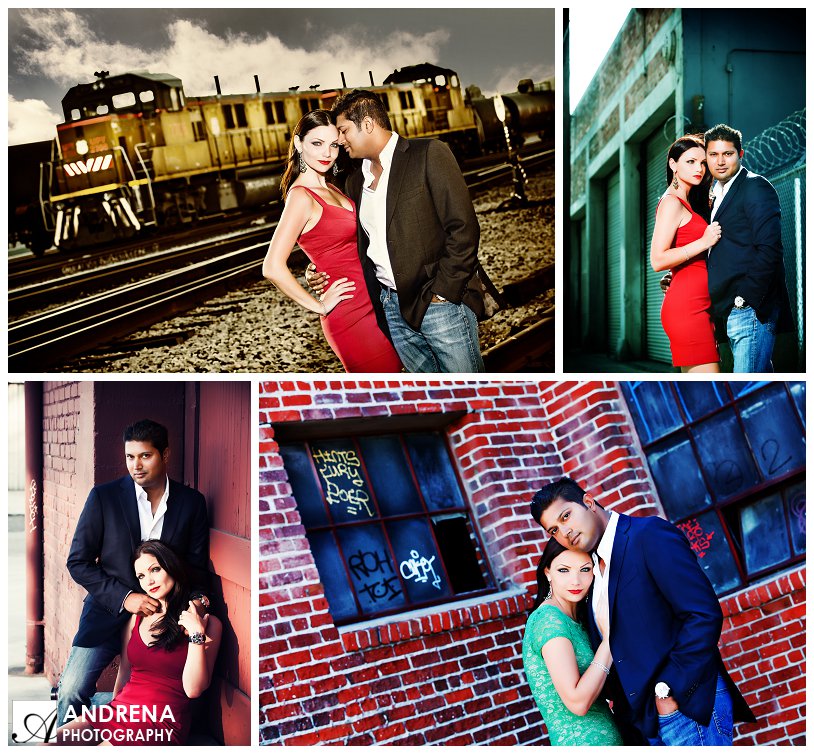 Preeti & Prashant

Preeti and Prashant will be married in August, also at the Huntington Beach Hyatt. Poor Preeti. When we got to the beach, I said, "Hey, walk over there, and then walk back." Then, just a few seconds later, a semi-rogue wave covered Preeti from head to toe in ocean, so I suggested that we come back another day for Part 2 of our shoot. It's so funny, but the shot I took right after the wave hit her (which I missed, as I was changing the card in my camera) is actually one of my favorites from the entire shoot . . . mostly because you can see a level of absolute hilarity and joy that you don't often see at engagement shoots. These guys are such good sports. Preeti is also one of the only people I've ever met who talks as fast as me. 😉 What's their height difference? One entire foot. 🙂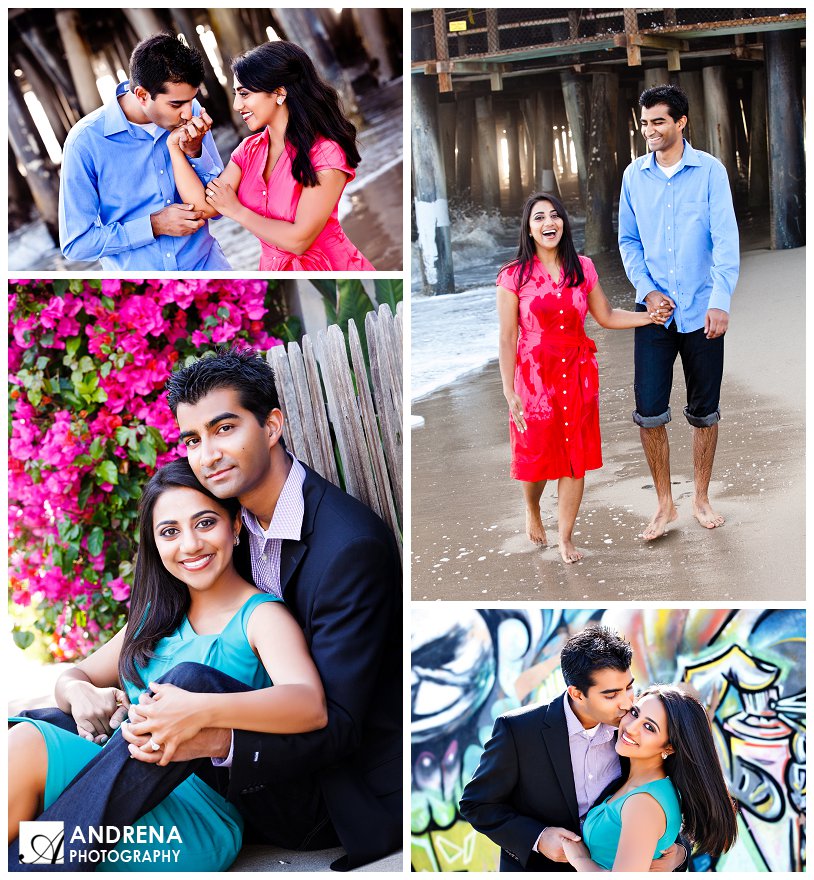 Kareena & Ashwin

I'm fairly sure that I've never shot an engagement session closer to the wedding date. This one took place just two days before, yet we worked through two solid nights to ensure we had a large framed multi-image print at their wedding. Poor Kareena had a fever during the shoot as well, but she performed like a trooper (despite her shivers). This couple's wedding at the Ritz-Carlton Laguna Niguel appears in the current issue of Ceremony Magazine (OC Edition).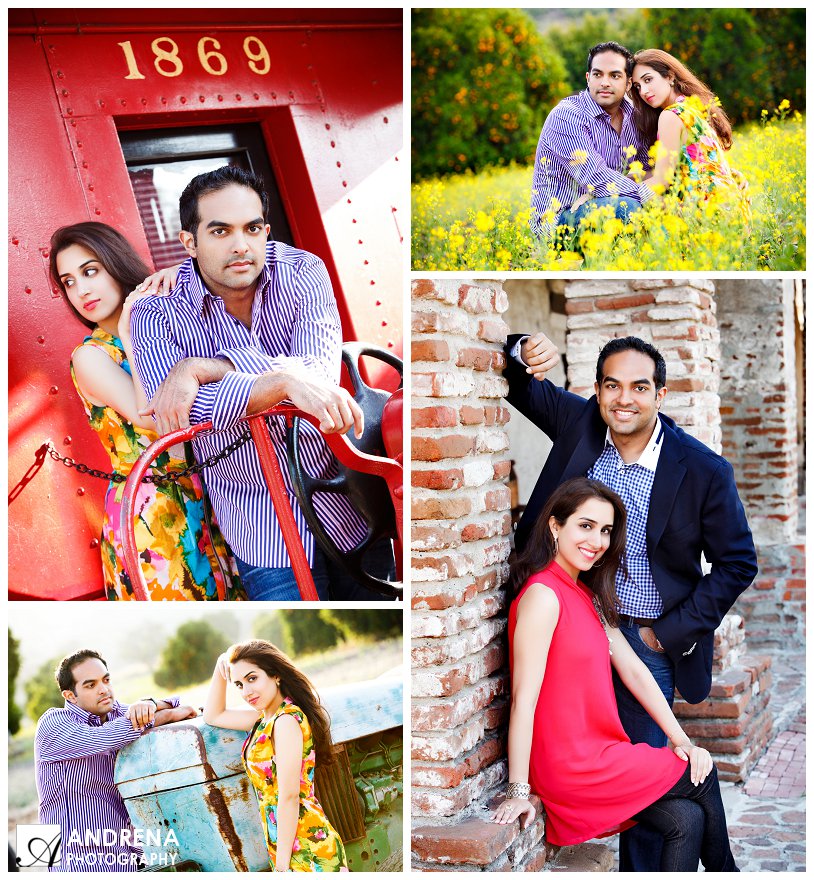 Mili & Srini
Mili and Srini just got married (also at the Ritz-Carlton Laguna Niguel), and I'll hopefully be blogging their beautiful wedding soon. But first, a few pics from their e-session.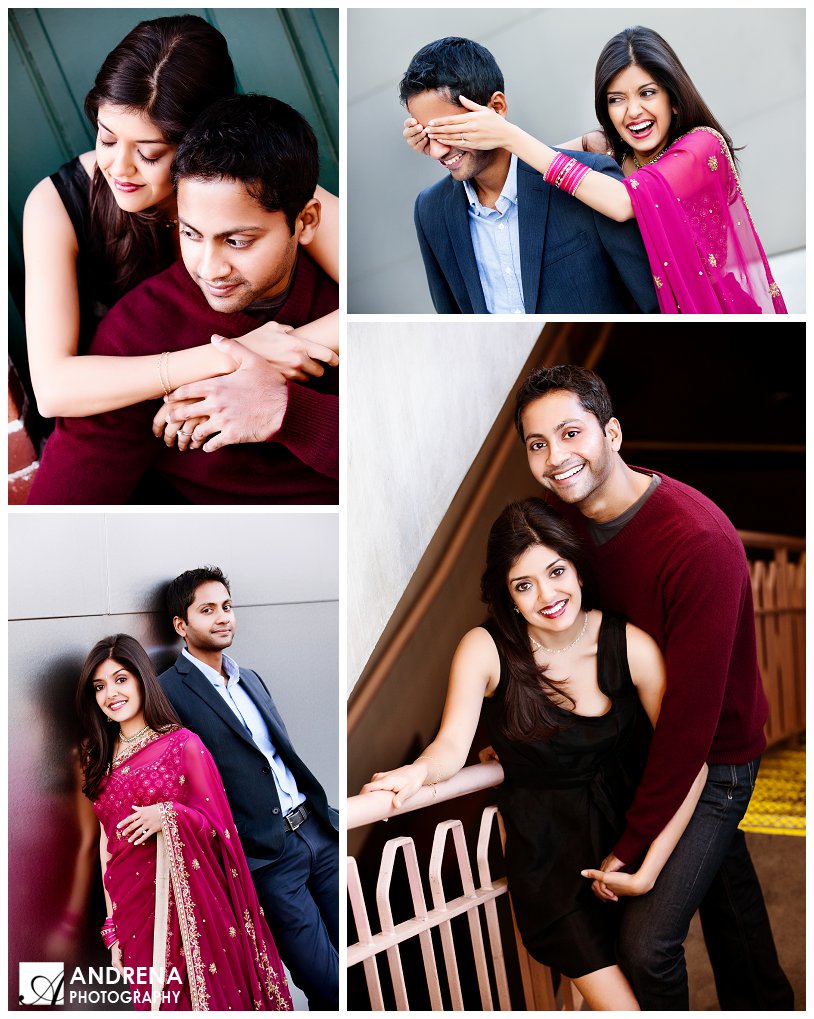 Ciny & Luis
Ciny and Luis are the sweetest, and I love that they did all their enlargements in warm-tone B&W. I grew up developing B&W film and printing my images on Oriental #3 paper. So this couple's love for B&W struck my heart a little bit. I love B&W.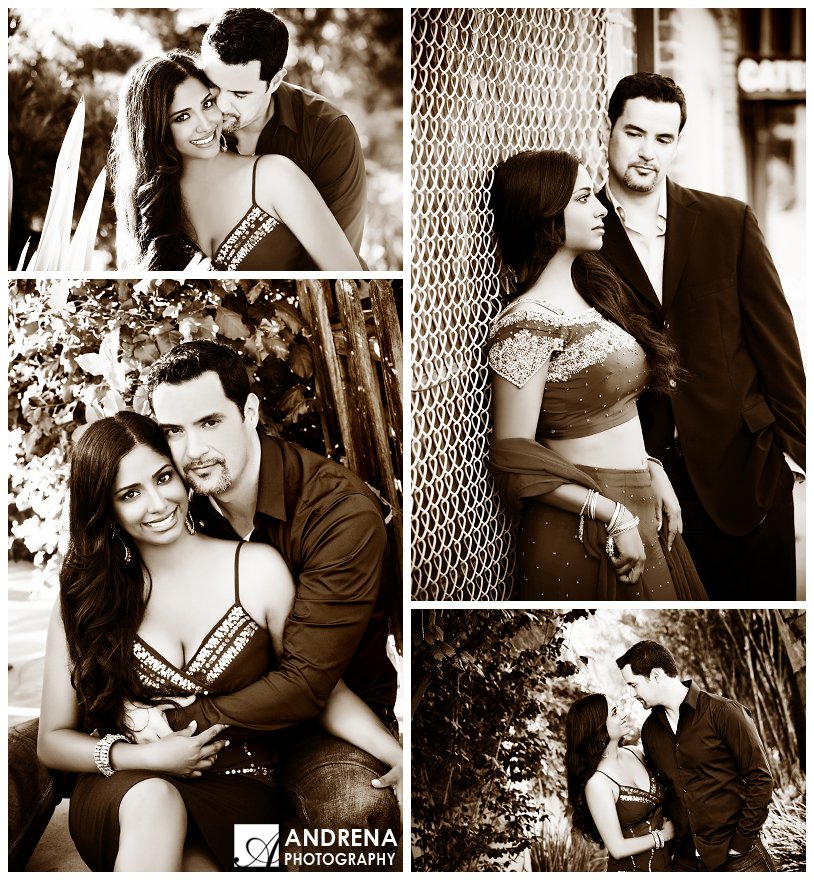 Lauren & Amir
If you try to get this couple not to smile, it just won't work. Their smiles are permanent. 🙂 This is an incredible couple, and they are so well suited for one another. They were married at Shutters on the Beach, and one of these days, that wedding is likely to show up on my blog.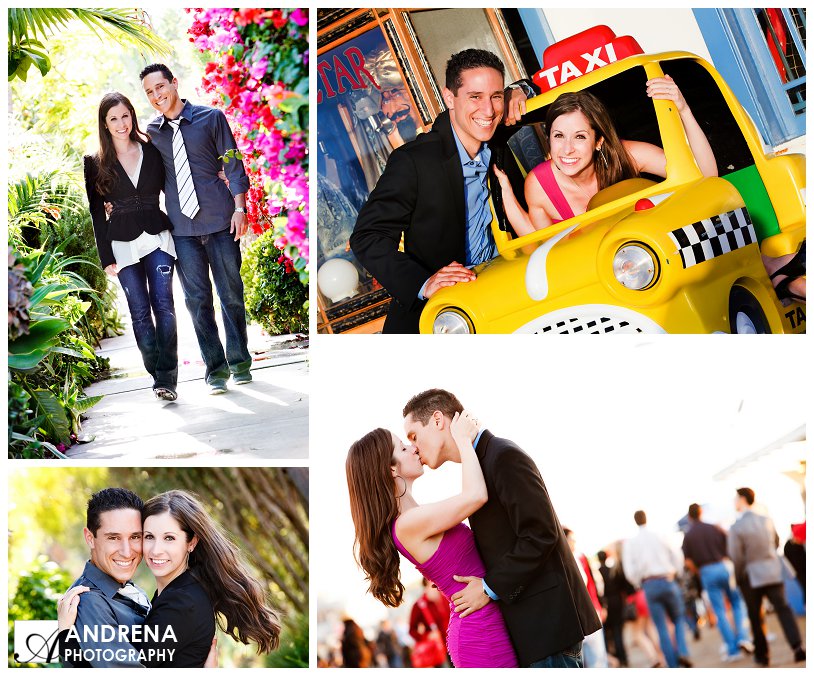 And just because she's adorable, here's a photo starring the delightful Chloe, who accompanied Lauren and Amir on their shoot. She was so well behaved. At every single stop, she just sat down. But then, she got bored, and I got this priceless image. This is the exact moment when Chloe was just "over" the shoot. And we weren't even close to being halfway done.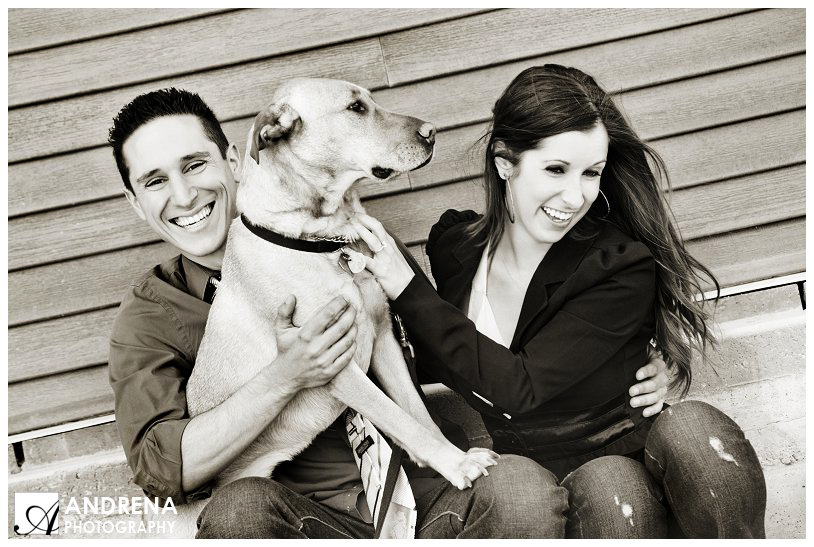 Nima & Denish
Nima & Denish chose the Nixon Library for their beautiful wedding. This sweet bride and groom only have eyes for each other.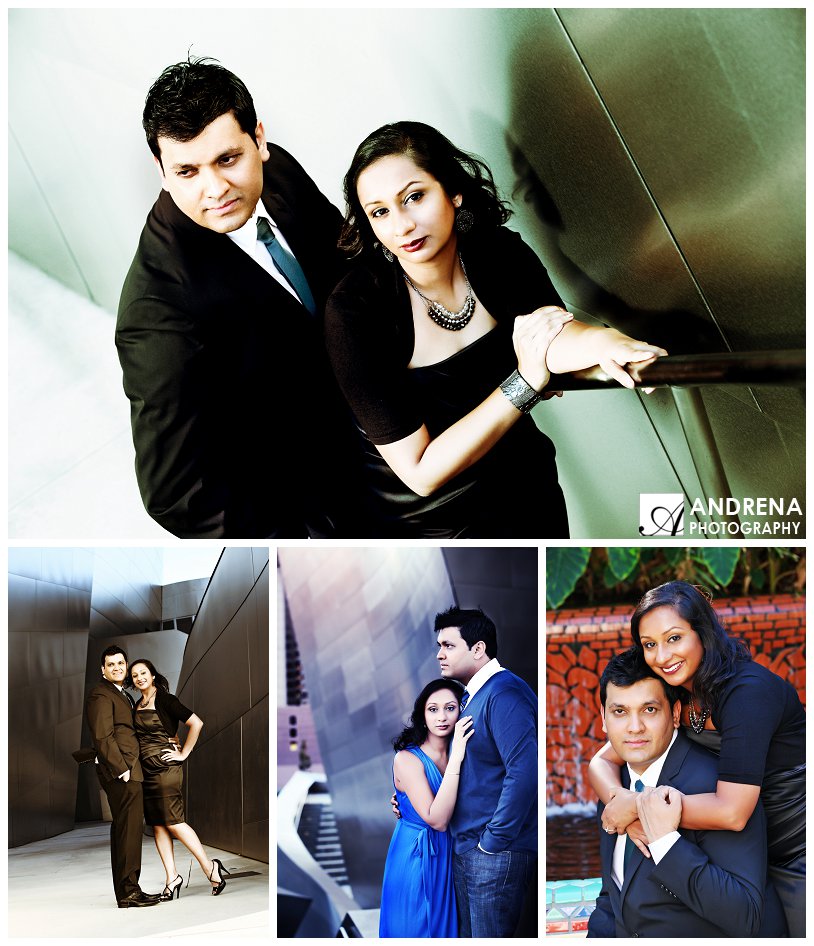 Sonia & Rahul
Sonia & Rahul are two of the busiest people ever, but they were so fun at their engagement shoot . . . which took place . . . the same week . . . as their wedding. 🙂 Their wedding took place at the Monarch Beach Resort in Dana Point / Monarch Beach.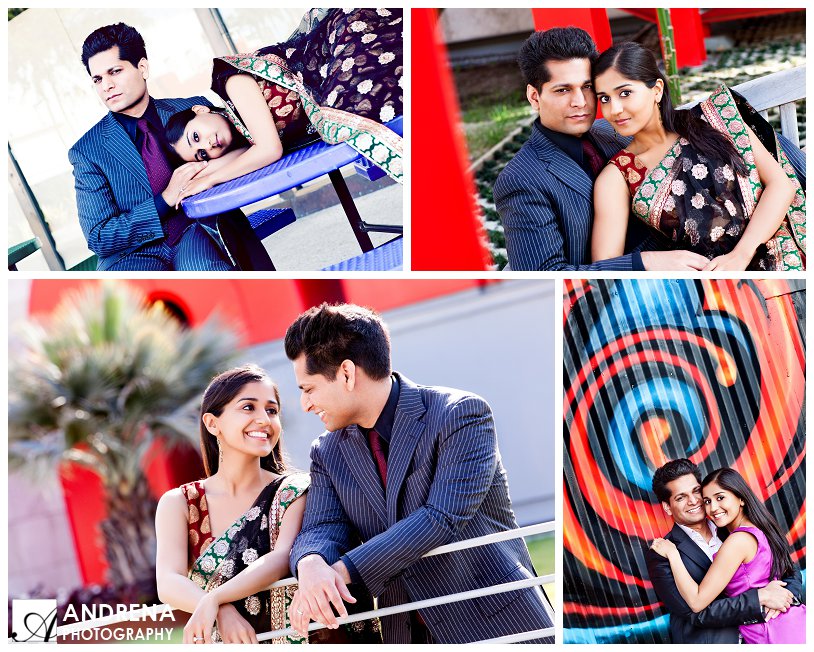 Krishna & Rama

Better late than never. This is yet another couple who is already married but whose e-session never got blogged. In fact, Krishna just wrote to me today to say hi. Krishna and Rama were married at the Bel Air Bay Club. And yes, that's a guy doing a back flip. His friend was shooting him doing a few flips, so I of course asked if he wouldn't mind contributing some acrobatics to Krishna and Rama's e-session. Such a nice guy to oblige.