I have been so very behind on the blog because client work always comes first. But the wedding I am most sorry about my delay in blogging was the gorgeous celebration of Flor and Jerome, which took place in stunning Quito, Ecuador. I sometimes don't get around to blogging things right away because I almost feel that no blog post can do the event justice. Then I get busy and sidetracked, and all of a sudden, I find myself so behind on the blog as to be silly. So a huge apology to Flor and Jerome, who are both just wonderful people, and whose wedding we were delighted to document. I'm also so happy that Jerome helped out on the incredible detail in this blog post. I asked for a few vendor and venue names, and got such a wealth of beautifully written information that it would be a crime not to share it.
Before Jerome and I talk about the wedding, I want to extend a special thank you to Flor's father. The day before the first event, Flor's father spent hours and hours showing my co-shooter (Yoshi Morimoto) and me all the most important historic sites in Quito. It was an unexpected and rare treat, and I will never forget Flor's father's kindness. A huge thank you also to Andrea and Andres, who referred Flor and Jerome to me.
The welcome festivities started off with a nature walk in a cloud forest. As Jerome explains, "Ecuador is full of unique ecosystems. Among them is the Ecuadorian Cloud Forest. Being on the equator, but also in the mountains, yields amazing flora and wildlife. Specifically, we went to the Maquipucuna Nature Reserve. The Maquipucuna Foundation is an organization that focuses on conservation and protection of the forest. It gave us the chance to both support an organization whose work is very important to Flor and her family, and to also share a piece of Ecuador's natural beauty with our friends."
After a day spent walking in the clouds, guests retired to their hotel to clean up, then headed to Fundación Guayasamin for some incredible local flavor, including local dishes, local spirits and local craftspeople working in the middle of the party. Jerome explains, "Oswaldo Guayasamin is Ecuador's iconic artist and is widely known as one of the most important artists in Latin American history. Inside what used to be Guayasmin's own home is housed an important collection of pre-Colombian art, and some of the artist's best work. Instead of a traditional rehearsal dinner, we decided to have what we called "Manabi" night. Manabi is a coastal region with a very distinct culture and is where most of Flor's family originates. Two of Ecuador's most famous exports come from Manabi — seafood and Panama hats (which to us should forevermore be named Ecuador hats given that they come from Ecuador).
"We could not have been more eager to introduce our guests to the stunningly flavorful Ecuadorian ceviche and to give them a hand-woven memento. The menu included ceviches, empanadas, maduros with peanuts, fresh manabi cheese, deditos, fruit cocktail, and various fruit liqueurs called mistelas, as well as traditional Jewish challah bread. The hat weavers came straight from Montecristi, which is exactly the spot that these hats are native to. We were very happy to have these artisans share the night with us and show our friends the intricacy of the weaving process. Women received tagua jewelry, known also as vegatable ivory, also native to Manabi." To ensure both Flor's Ecuadorian culture and Jerome's Jewish culture were represented, the evening tipped its hat by ensuring that traditions from both were involved.
The wedding itself took place at the astonishing La Compania de Jesus church, which is located in Quito's Old City and is dazzling by any standard. As Jerome notes, "Whether you are a religiously observant person or not, with cultural influences that stretch as far back as 430 years, the architecture and art of this structure will flood you with feeling and wonder. It's considered the most important religious colonial building. Constructed by the Jesuits in 1605 (it is consecrated to Saint Ignatius de Loyola), La Compañía became internationally recognized when UNESCO included it among the 100 most important buildings in the world."
I've personally had the privilege of seeing many of the world's great churches, but this one took my breath away. I have truly never seen anything like it, and photos absolutely don't do it justice.
After the Catholic ceremony, guests made their way to the reception, which took place at the Capilla Del Hombre (The Chapel of Humanity). Says Jerome, "Perched perfectly to view the magical Pichincha Volcano and the romantic Old City of Quito, "La Capilla del Hombre," which was designed to look like a pre-Colombian pyramid, was conceived by Ecuador's most important artist — Oswaldo Guayasamin (1919-1999) — to house much of his paintings/sculptures, to remember those who have fought for human rights worldwide, and to act as a monument to the progress of humanity.
"Among the highlights was our experiencing a wonderful sunrise which gave light to Quito and the awesome snow-capped volcanoes — the biggest being Cotopaxi." A huge thanks to Flor and Jerome for including us in such a wonderful celebration. We loved every minute (well, except getting up at 4 a.m. to go to the Cloud Forest, but even that brief pain wasn't anything that some incredible Colombian coffee wasn't able to cure — LOL).
Dress designer: Carolina Herrera
Tuxedo designer: William Fioravanti
Decorators: Gloria and Fernanda Mora
Caterer: Chef Henry Richardson. Jerome describes the menu: "The menu was created to showcase what many consider to be the world's best seafood, and to excite a very wide variety guests. Courses included pangora crab, langostines, veal, quinoa, and a fruit called badea (a favorite of the groom). Desserts included cakes, various Ecuadorian sweets, and an ice cream flavor only found in Ecuador called taxo. At around hour 10 of the reception, our guests received a soup native to the highlands of Ecuador called locro de papas and also, yes, matzoh ball soup. Richardson is well known in Ecuador as one of the country's best chefs."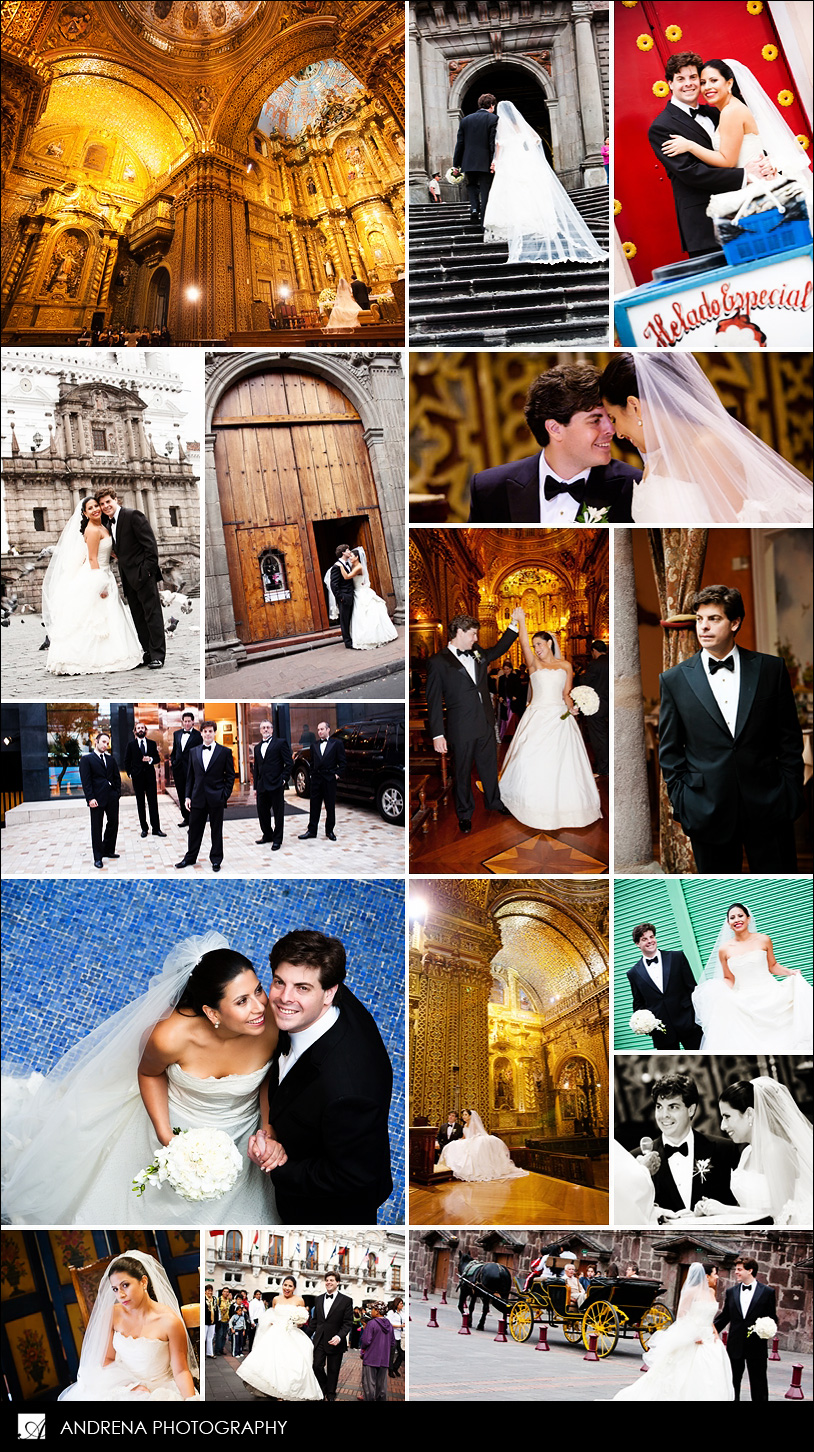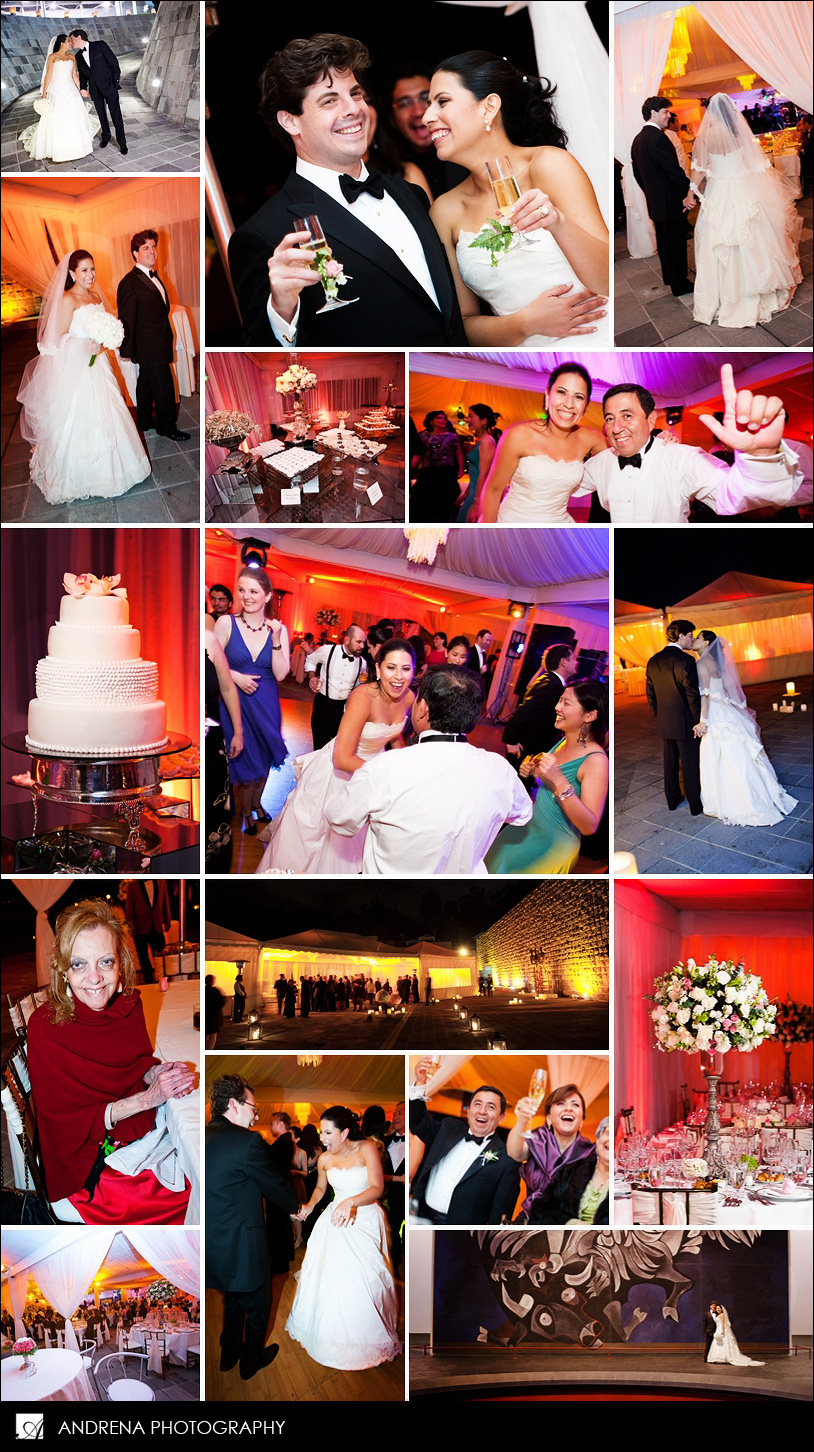 And my favorite photo from their wedding, which ran in Rangefinder Magazine: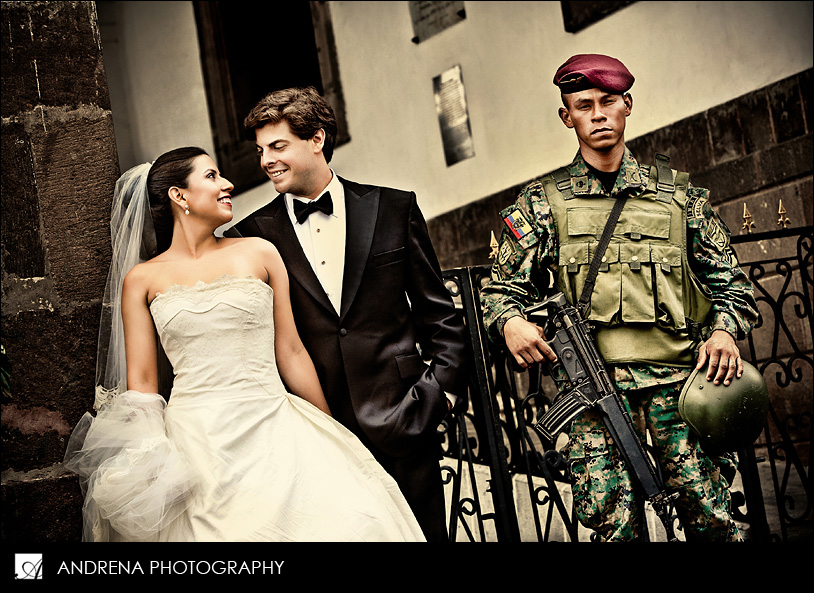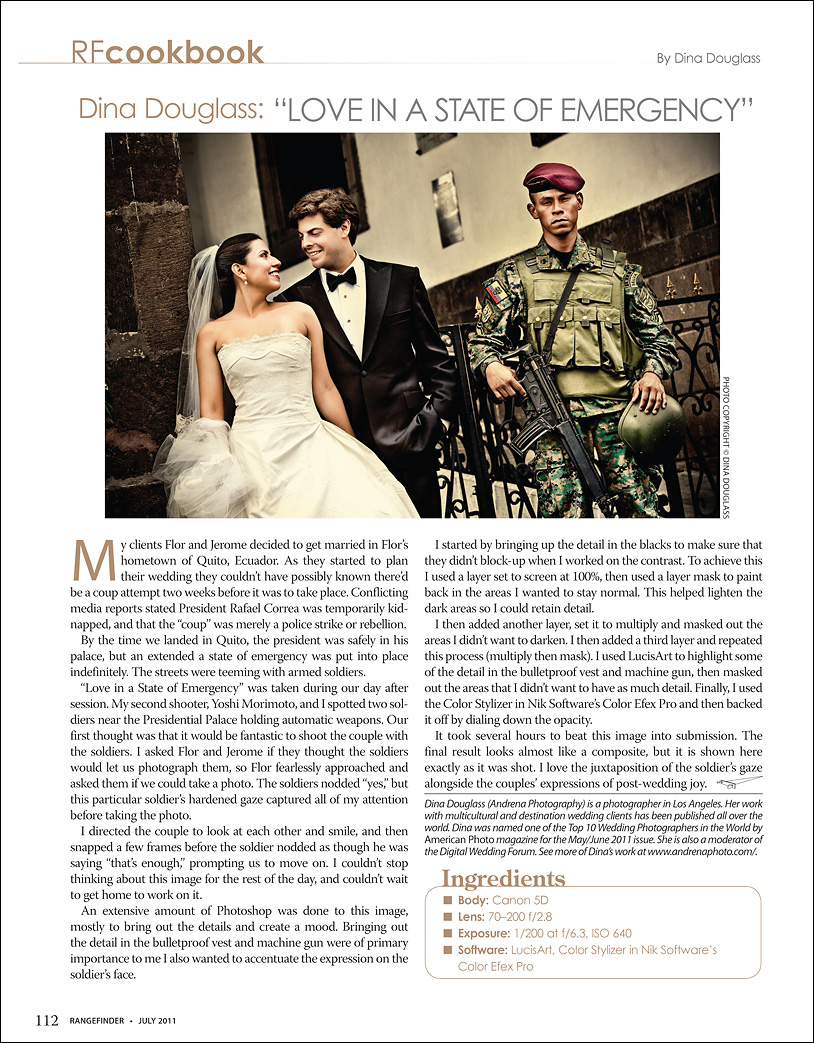 Much more to come in the next days and weeks. I've once again got a ton of blog posts geared up and ready to go, so be sure to check back. 🙂