I always admire people who can keep their blogs up to date during the busy summer months. I tend to fail at that, but I actually have a few good reasons. It seems so quiet on the blog front, but my studio has been anything but. Aside from the extensive shooting and production that I do in the summertime, I lately seem to be spending a lot of my time helping others out . . . either with images or last-minute shoots. My good-hearted nature always wants to help, but that can be a bit of a double-edged sword, as I tend to put others first and neglect my poor blog. The complexity of the jobs that I shoot makes things even more difficult. Did I mention that I recently shot a 43-hour wedding? (It took days to recover.) Or that I shot a wedding in Las Vegas on only three days' notice, after the original photographer couldn't make it? Or that I got a last-minute call to help out a good friend by taking a formal portrait of him on an NBC set for a huge photography magazine? This has all been in the past few weeks. I am blessed to work in a field that I love, and to have so many great clients. But I do get so busy in the summer that I miss out on communicating with all my fab blog visitors.
I'm actually heading off to Istanbul, Turkey, tomorrow (early Monday morning) to shoot Anaiza and Can's wedding. Though I've been to 28 countries, I've never had the pleasure of seeing Turkey, so I can't wait to report back when I get home on the 31st (well, after I wake up from my jet-lag coma). I have so many more weddings and jobs to share with you all, and September will hopefully afford me the opportunity to get this blog whipped back into shape. Apologies for the quiet. It always seems to happen in the summertime, and I thank you for bearing with me.
And now, just a few things you might enjoy. So many more to come, but for now, but I hope you enjoy these.
The Wedding of Jeff Caplan & Heather Taylor
Venue: The Wynn, Las Vegas, Nevada
If you're a wedding photographer (and I realize that not all of you are), you're probably aware of the Digital Wedding Forum: The world's largest online forum for wedding and portrait photographers. Founded by Jeff Caplan, the DWF is a godsend to those of us who toil alone (or semi-alone) on images, late into the evening. When your brain is full of weddings, you sometimes find that your friends don't find you as interesting as you once were. Unless it's your friends on DWF, who also have brains full of weddings. I've been a moderator for the DWF for many years now, and still visit the forum many times a week to help people, participate in discussions and to learn. I was delighted (and surprised) when Jeff called me just a few days before his wedding to say that their original plans had changed, and asking if I could hightail it to Las Vegas.
After my head exploded, I called the wonderful Christine Marie, who agreed to second shoot for me (on just three days' notice), and to the 600 miles of driving that this job entailed. I couldn't be happier to have been a part of the joy that Heather and Jeff take in one another. Reading their pre-wedding iPhone conversation was enough to bring a tear to a cynical eye. Tired though they were, Jeff and Heather rallied for a day-after session at the Wynn, the Encore and the Neon Boneyard. The uber-talented Alt-F (aka John Michael Cooper) and his fabulously talented wife Dalisa joined us to create some signature shots (which may or may not be on their blog right now), and Dalisa graciously arranged the shoot time for us with her peeps at the Boneyard. Watching those guys work just blows your mind. Jeff and Heather and Dalisa and John, I love all of you guys.
A Private Party, Beverly Hills
Design & Decor: Sonia Sharma at Sonia Sharma Events
Floral Artistry: Eddie Zaratsian at Tic Tock Couture Florals
Venue: The El Rey Theatre, Los Angeles
And oh yes, the cake lights up.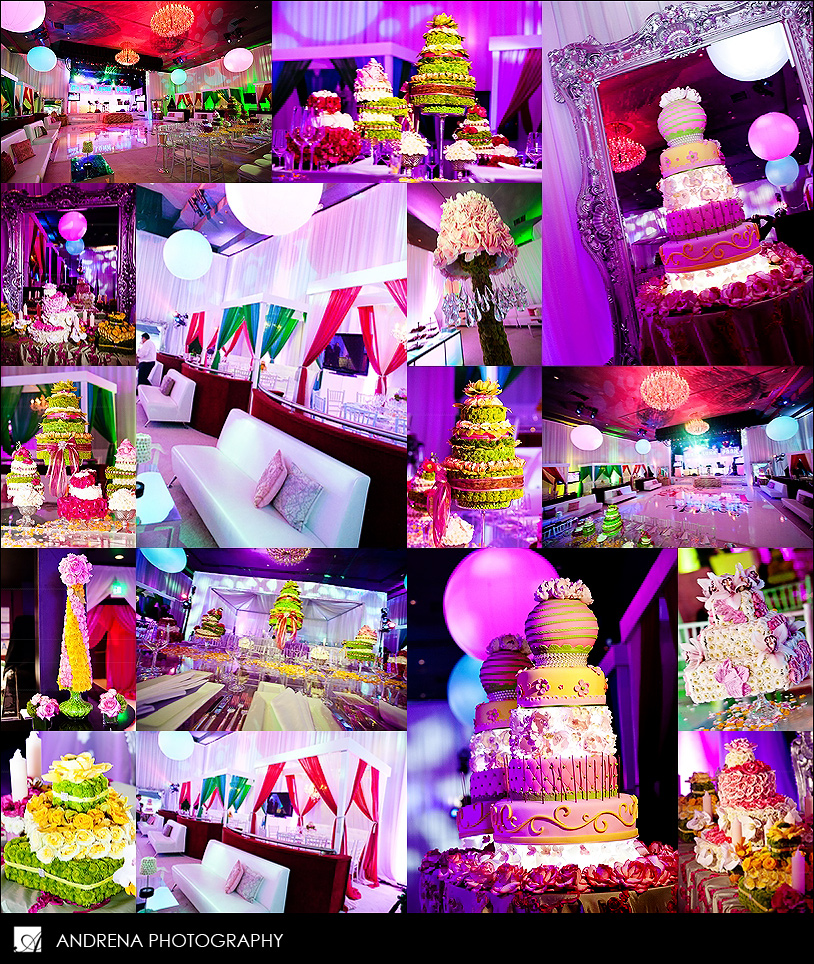 Kristen & Vikrant
Venue: Samode Palace, Samode, India
These MIT grads met . . . at MIT. How easy was that story? Funnily enough, if memory serves, they actually had dorm rooms right next door to one another. Vikrant's family lives in Delhi, so they chose the breathtaking Samode Palace (in Samode, about one hour from Jaipur) for their multi-day wedding. Highlights included an afternoon menhdi followed by a nighttime camel caravan to a desert oasis filled with tents and lit by fire pits and red uplighting. The wedding took place the next day, and featured one of the best baraats I've ever seen. Interestingly, the ceremony itself took place after the dinner (starting, I think, at around 11 p.m.).
We spent the next day doing a day-after session in the nearby village, and these two were game for anything. The villagers all ran out to watch, and one of the guys said that no one had ever brought a bride and groom out into the village before. If you got a copy of the American Photo Top 10 Wedding Photographers issue, that's Kristen and Vikrant standing among the goats. I think you can still scroll down to see that photo. 🙂 Kristen also surprised me when I asked if she'd be willing to lie down in the flowers on the ground . . . just as she was walking to watch the baraat. She said, "Sure!" and got right down on the ground. That's my kind of bride. There's so much more to write about this wedding, but I've got to go pack, so I'll have to keep this on the short side. Kristen and Vikrant, thank you so much for including me in such a wonderful event.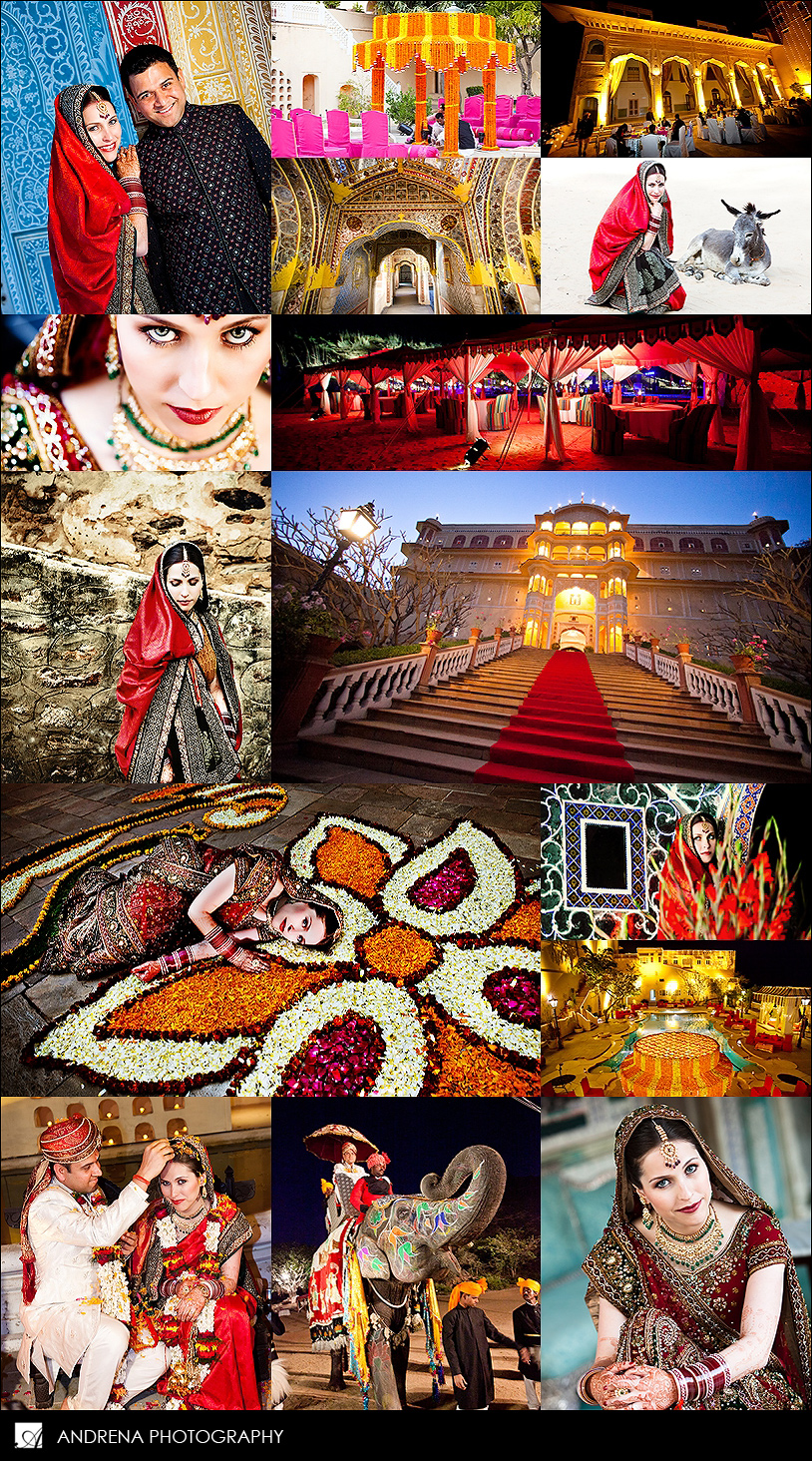 Corey & Katie
Venue: The Hotel Figueroa
It is such a pleasure to shoot a good friend's wedding. Corey (Corey Nickols Photography) is actually a fabulous photographer himself, so when he met "the girl," I knew about it right away. Katie is a talented stuntwoman and she loves Corey so much. It was so fun to see a good friend fall in love, and take that leap of faith. I even knew about the proposal before it happened (at the Griffith Park Observatory), and oddly enough, I was the person who turned Corey on to the fabulous Hotel Figueroa. He took one look at their site, and said, "This is it." And I said, "Corey, OK, but please don't have your wedding on a holiday." And he called back a few days later and said, "Hey! We're having it on New Year's Eve, and we want you to shoot it!" So much for a photographer's life without holidays. I truly wish these guys a life full of blessings and joy.
With second shooting by the always wonderful Yoshi Morimoto (who gave up New Year's Eve with his family to co-shoot this wedding with me). Did I mention that Yoshi's adorable daughter is now two years old? 🙂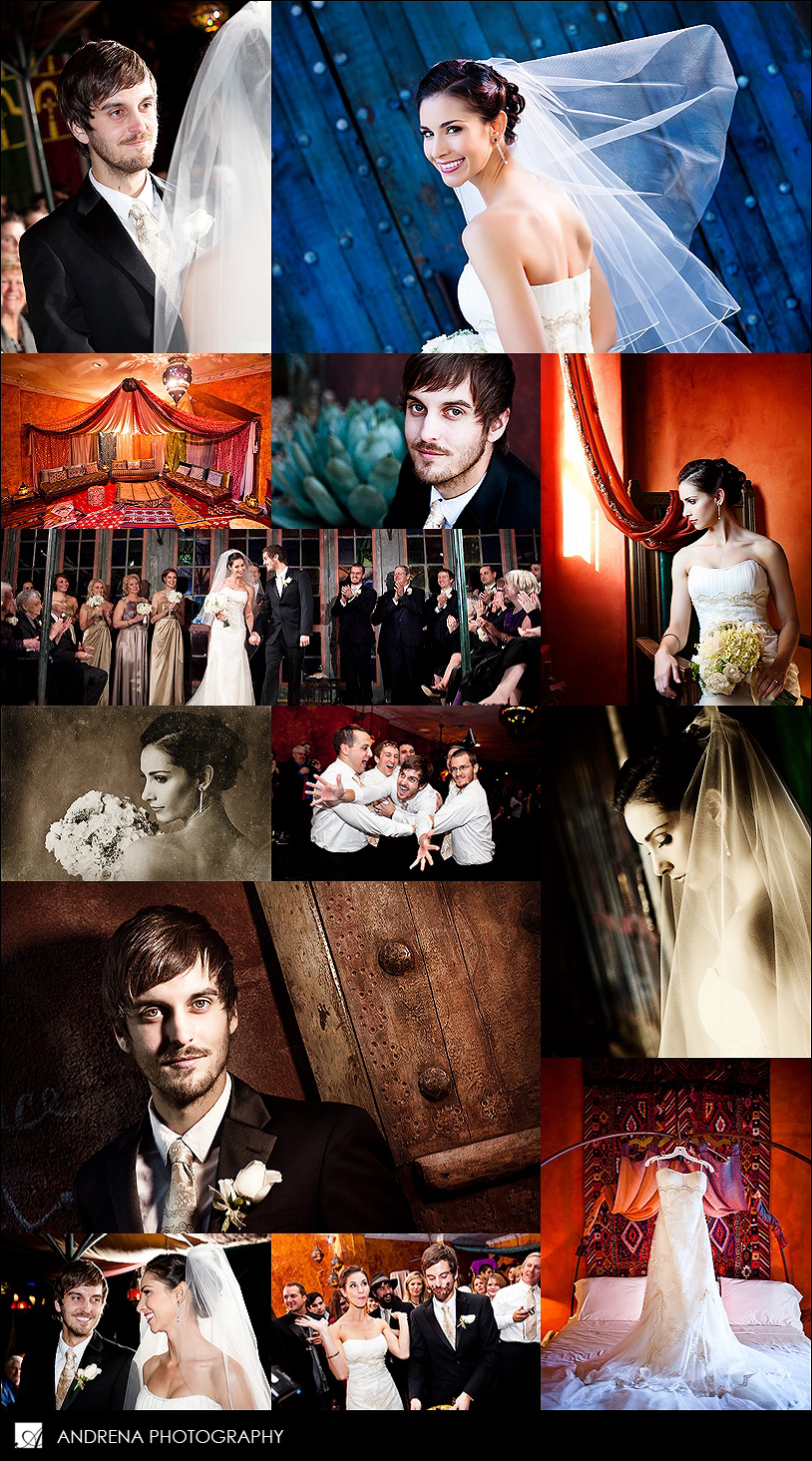 Sonia & Rahul – Monarch Beach Resort
What can you say about Sonia and Rahul? These guys are just the nicest people in the world. Sonia has the teeniest, tiniest voice on the phone, but when you meet her in person, she sounds totally normal. 🙂 Sonia sent me one of the nicest thank you letters I have probably ever received. I'd love to post it here, but I forgot to ask her if I could, and it's now the middle of the night, so maybe I'll ask her when I get back. If I wasn't so tired, I'd tell you the cute story of how they got together. Maybe I'll save that for when I get back, and do a big update. I loved this wedding, and the decor was off the hook. Enjoy.
Venue: Monarch Beach Resort in Orange County, California
Coordination: Pinaki Kaleka and Raakhi Masani, Pink Rock Events
Floral Artistry: Arsine and the team at Shirvan Design
Hair & Makeup: Jeannie Jeffries and the team at Couture Beauty
DJ Rockitude: DJ Rishi P
Video: Robles Video
Lighting: Amber Event Production