Cinal's wedding to Taju will be a three-part blog post because the decor was so beautiful that it deserves its own post. Part III will focus on the couple's reception events, friends and families.
When Cinal and Taju started planning their 900-person reception, they took their inspiration from years of going to nightclubs, boutique hotels and stylish restaurants. Since they both had a love for bright colors and abstract design with a modern twist, meshing their styles was as simple as thinking up possibilities. At the end of the day, Cinal and Taju both wanted something different, trend-setting, dramatic and that had an exciting club feel — Miami's South Beach meets Hollywood Glam with a bit of high-end Las Vegas thrown in for good measure.
These original personalities both wanted to stand out in the crowd by trying to come up with unique ideas. And the creative and talented Shawna Yamamoto was the perfect person to help bring their design ideas to life. When the doors were opened and guests were let inside, they delighted to an absolute wonderland of blues, purples and silvers, including a silver couch flanked by plexiglas pedestals filled with colored water and topped with flowers. As if the photos below weren't evidence enough, check out the ridiculously creative cake. Shawna asked Cinal, "Do you want a traditional wedding cake?" to which Cinal replied, "No." The end result? One of the most creative cakes this photographer has ever seen. The reception also featured a candy lounge, which paid homage to Cinal's sweet tooth. Coordinating a 900-person reception is no small feat, so Cinal hired the fabulous Jeannie Savage at Details Details to make sure everything ran smoothly. Jeannie brought a team of 7 or 8 great girls (I lost count), and every aspect of the reception went off flawlessly without Cinal or Taju having to worry about anything.
Cinal and Taju carried their singular style through the design of their custom-made super-bling reception outfits. After trying (and failing) to find just what she was looking for in India, Cinal co-designed her outfit from scratch along with the designer for India's Who Wants to be a Millionaire. Meanwhile, Taju's uber-stylish outfit was designed by Nilesh at Mitesh & Nilesh. Even Vinod and Sudha Bhindi pitched in with the design, so the search for originality became a bit of a family affair.
While the photos speak for themselves, I asked Cinal if she had anything she'd like to add anything about her design and coordination team. "I have to thank Shawna for taking what we dreamed about and wished for, and making it into reality. Without her, nothing would have worked. And Jeannie and the team at Details Details were more than I ever imagined!!! They were perfection!! We didn't worry about one thing the day/night of our reception." I'll have much more to say about the reception in Part III, which I hope will go live by early next week.
With coordination by Jeannie Savage and the team at Details Details, floral artistry and design by Shawna Yamamoto, lighting by Amber at Amber Event Design, hair and makeup by Oscar Naranjo at Ziba Beauty, DJ stylishness by Ajay at Special Occasions, catering by Jay Bharat, fruit station and ice carving by Jorge Tapia at Crystal Creations, ice sculpture by James at Crystal Ice Creations, dance floor/chargers/chairs by Chiavari Chair Rentals, linens by Diana at 3-Generations, cakes by Jennifer at Beverly's Best Bakery, chocolate fountain by Scott at Amor Chocolate Fountains. And with jewelry by Bhindi Jewellers. And with second camera by Yoshi Morimoto at YM Images and third camera by Christine Marie at Christine Marie Photography.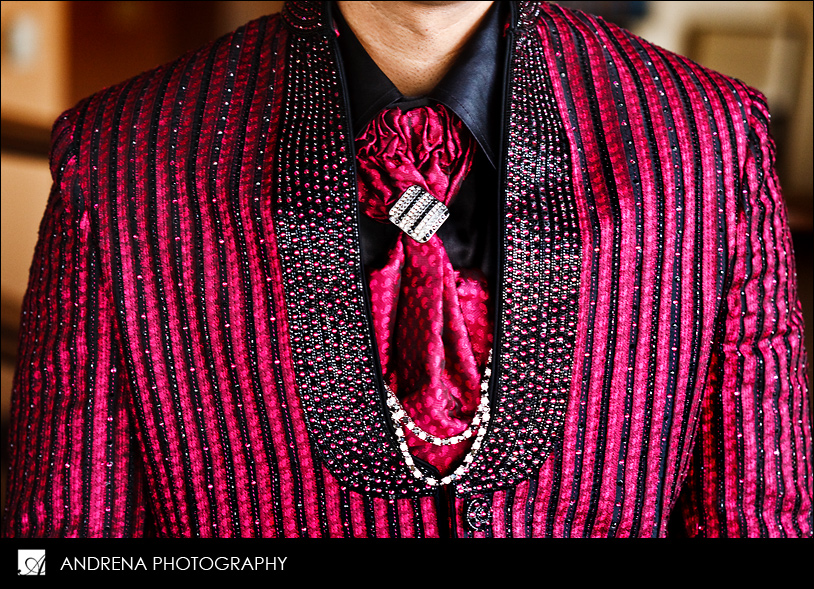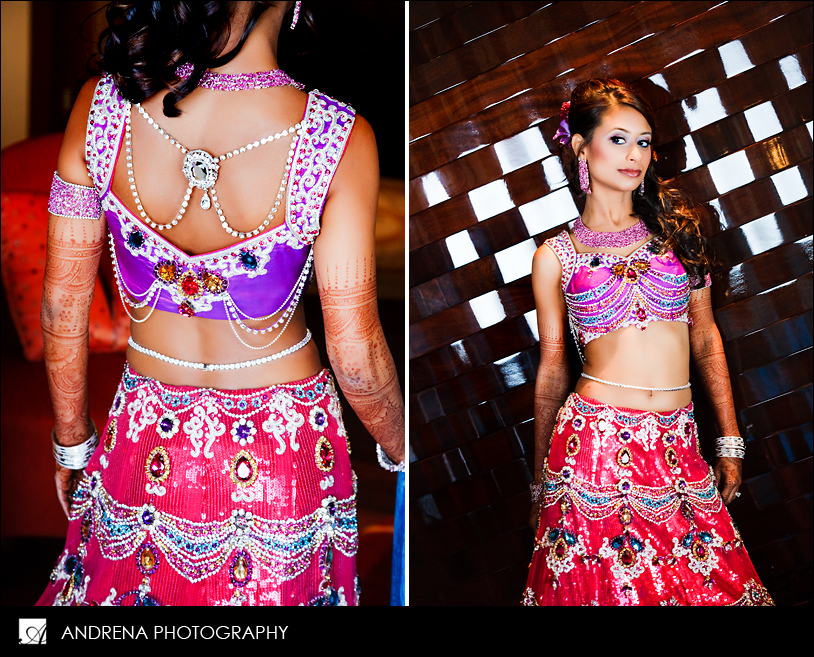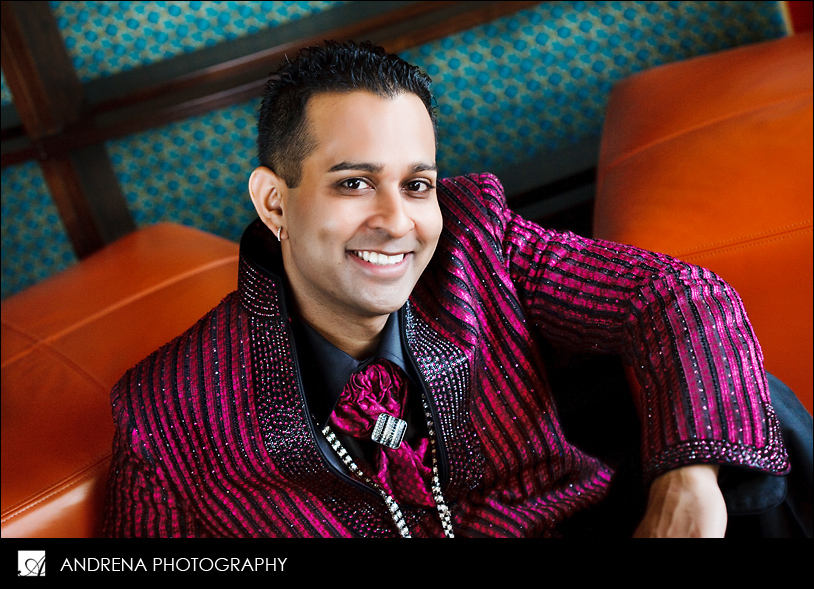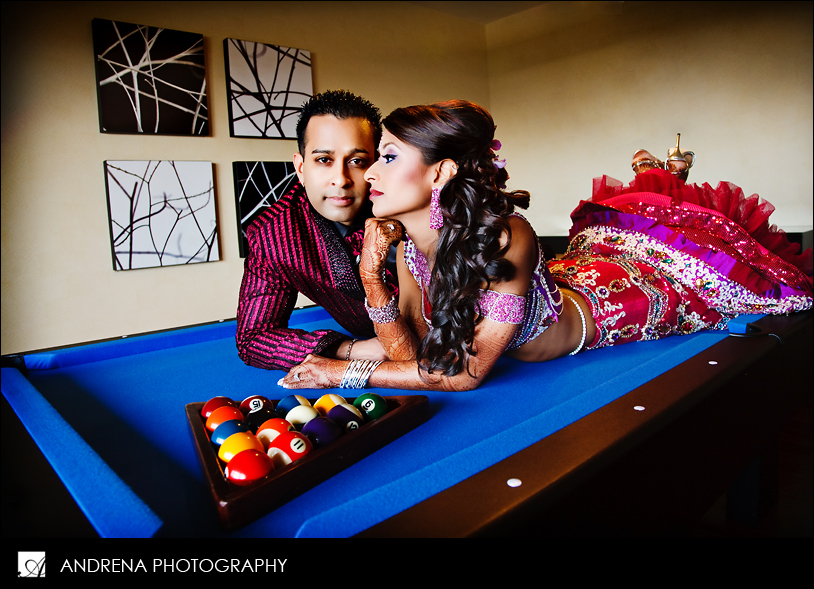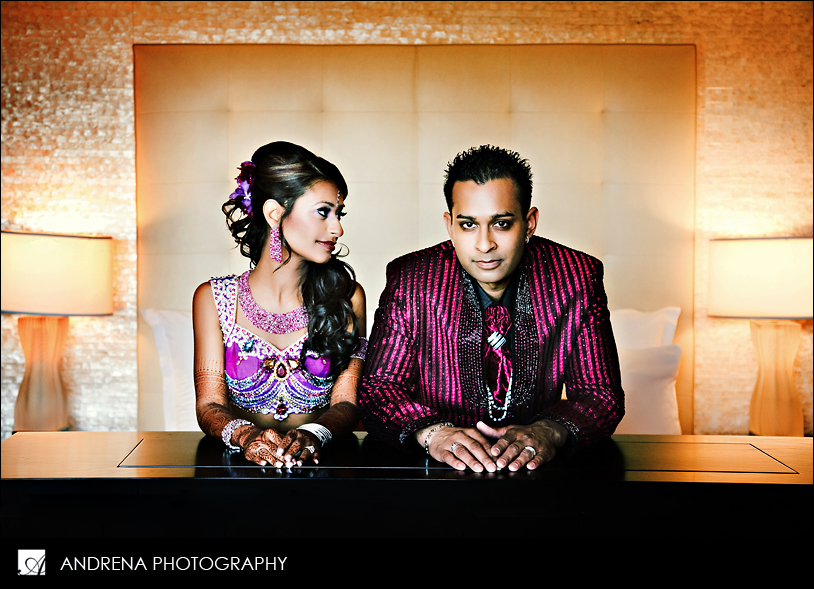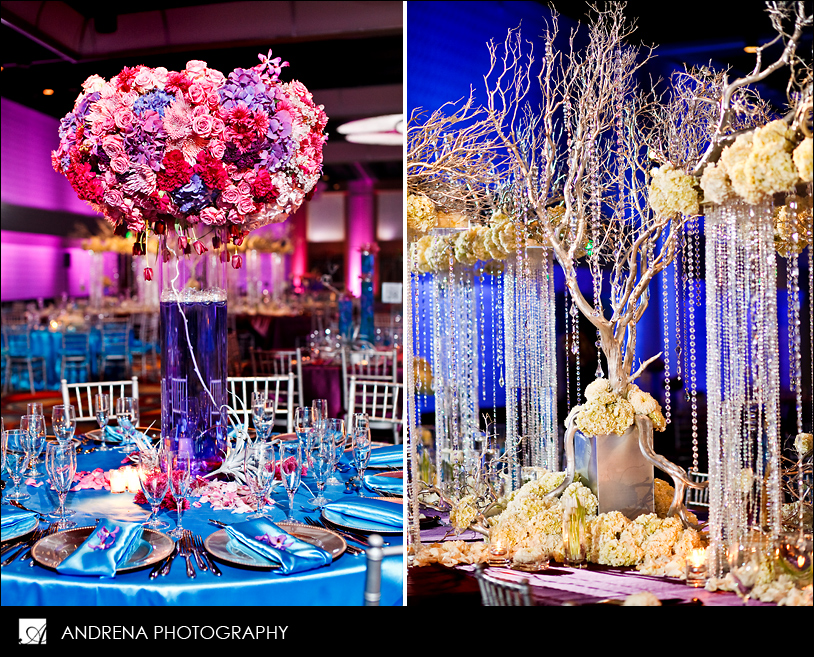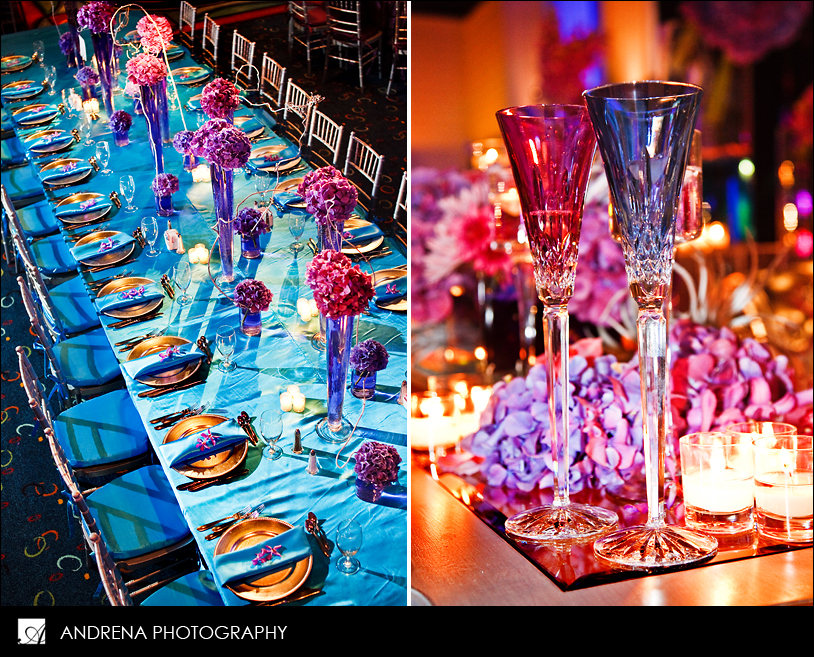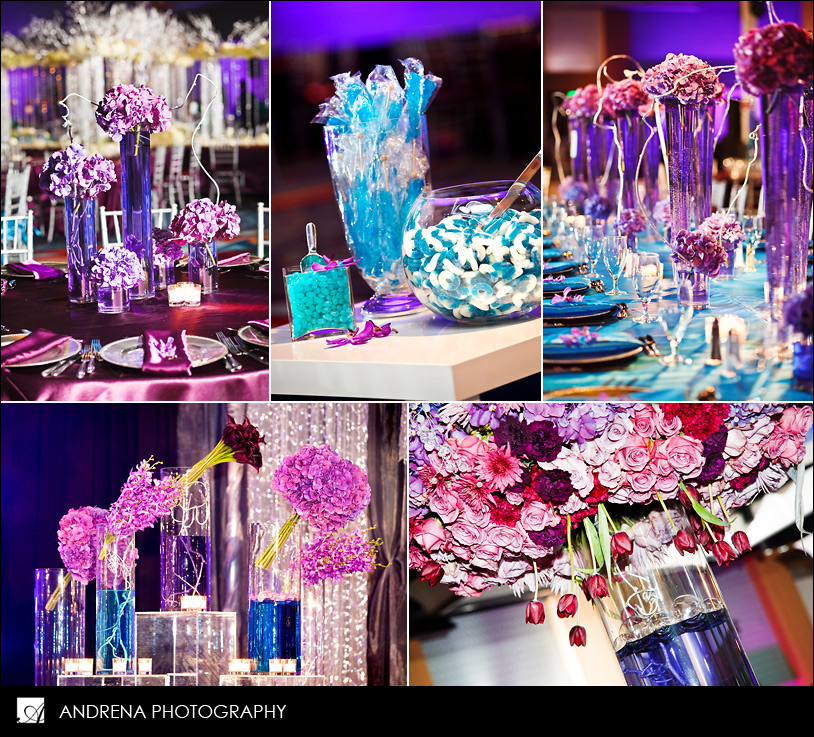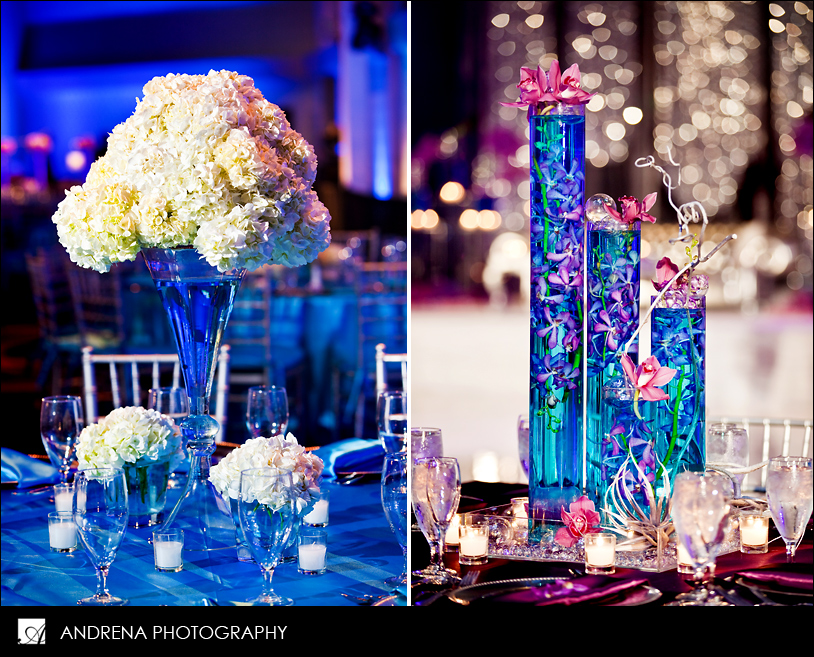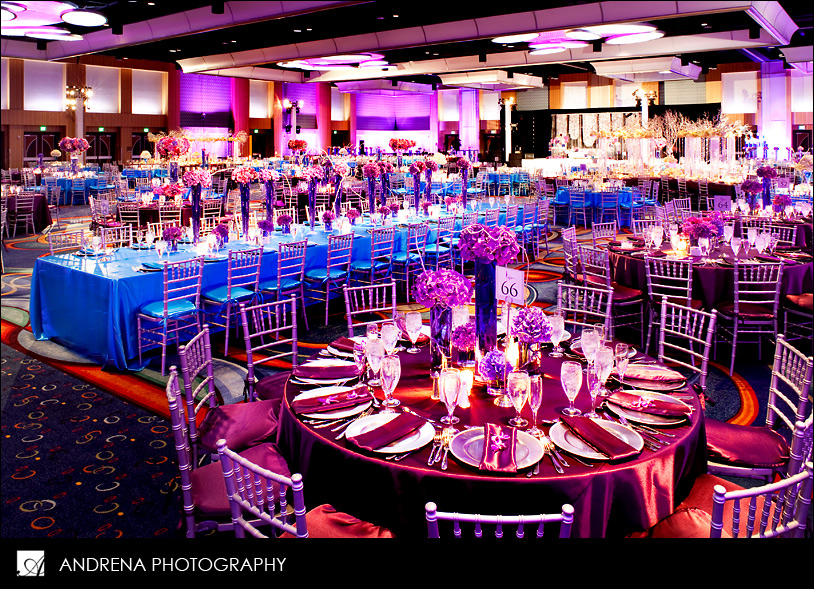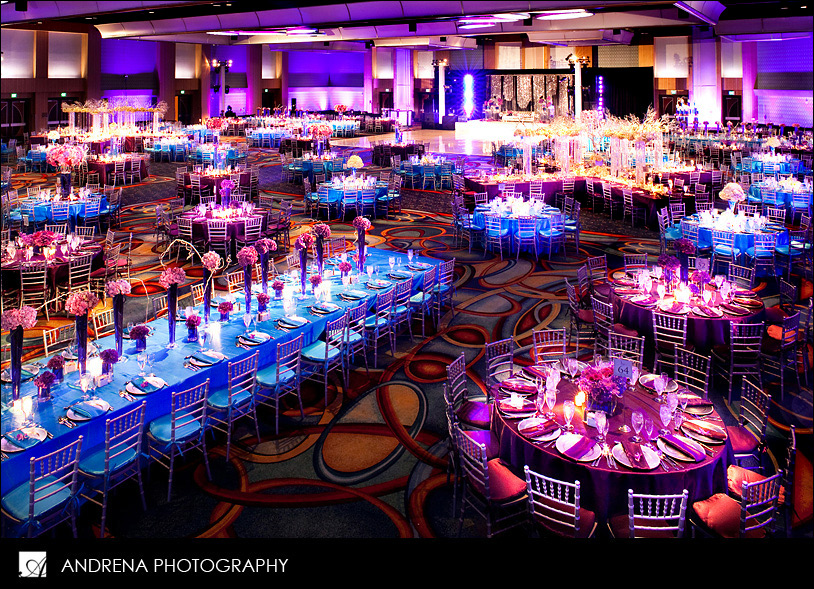 This is a cake! All those little white things on top are cakes! I can hardly believe it! It was just amazing.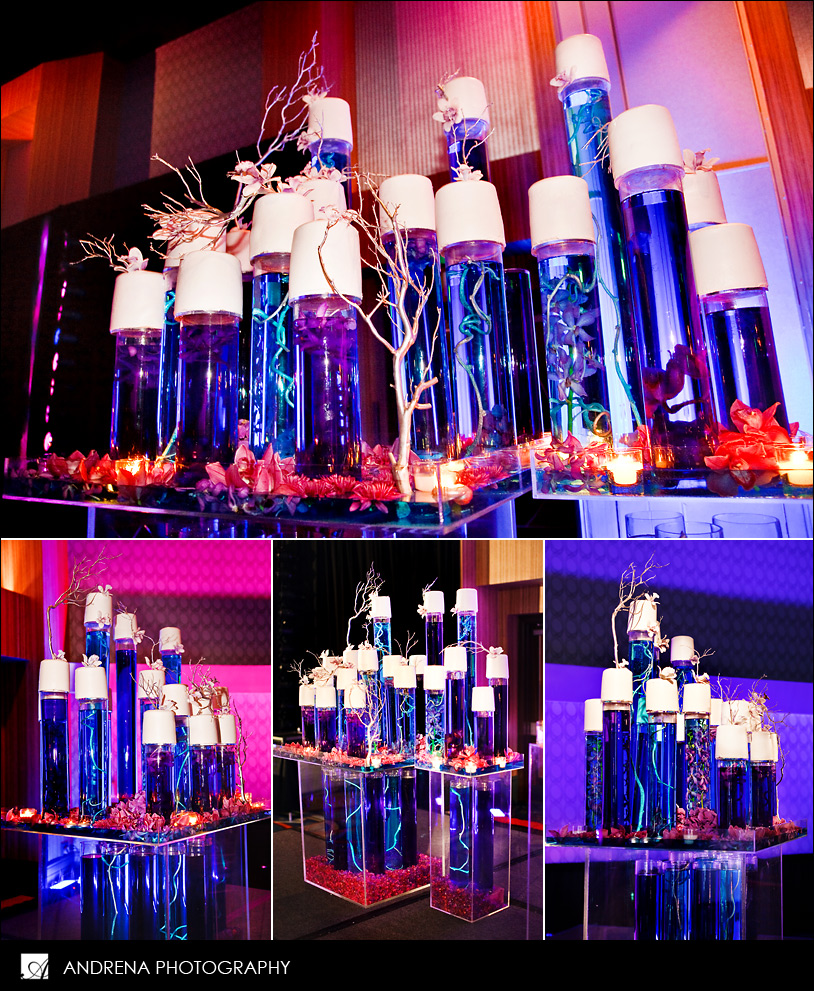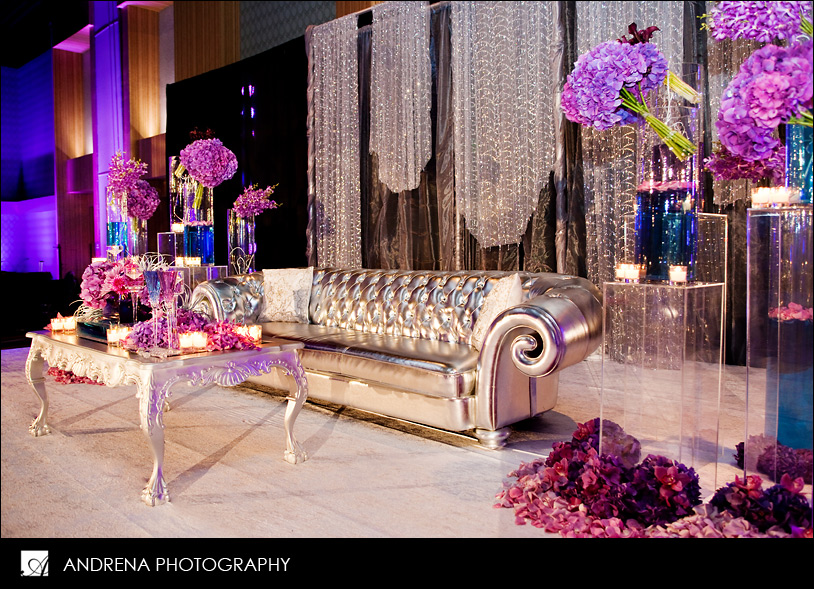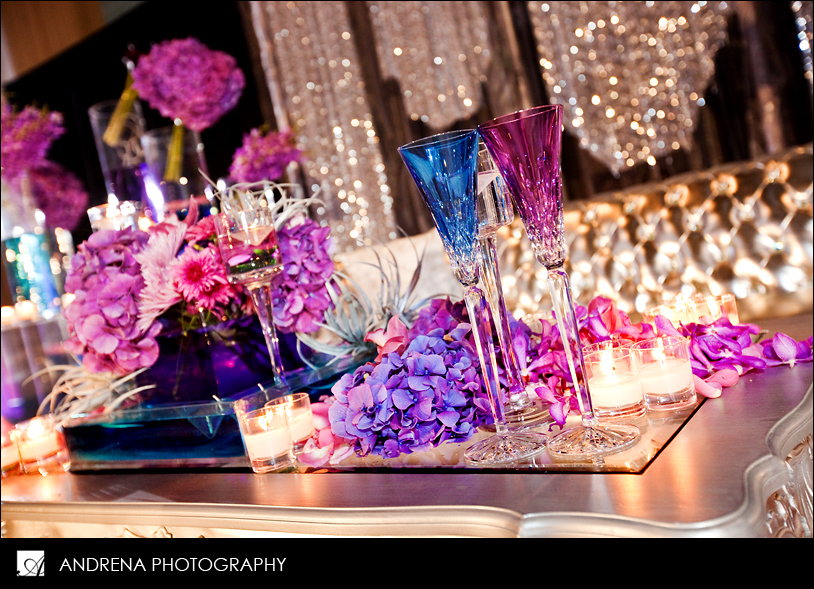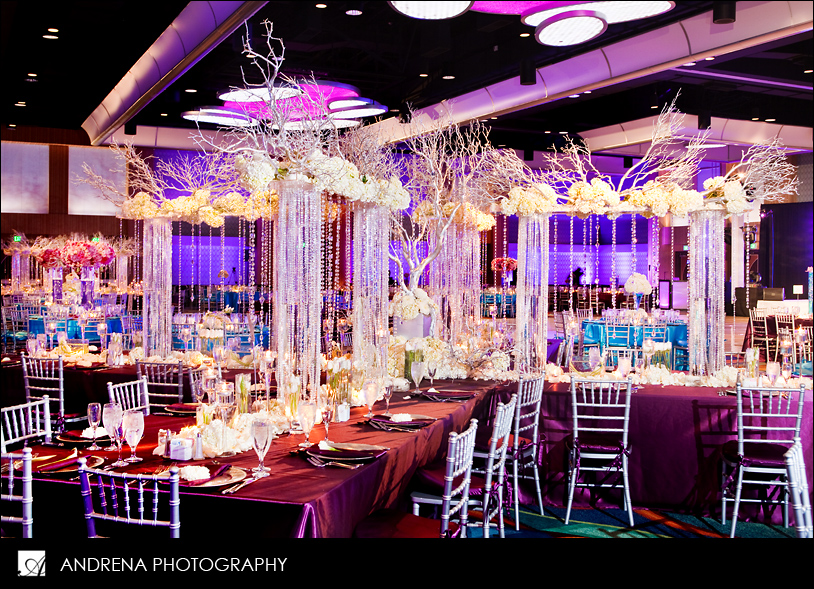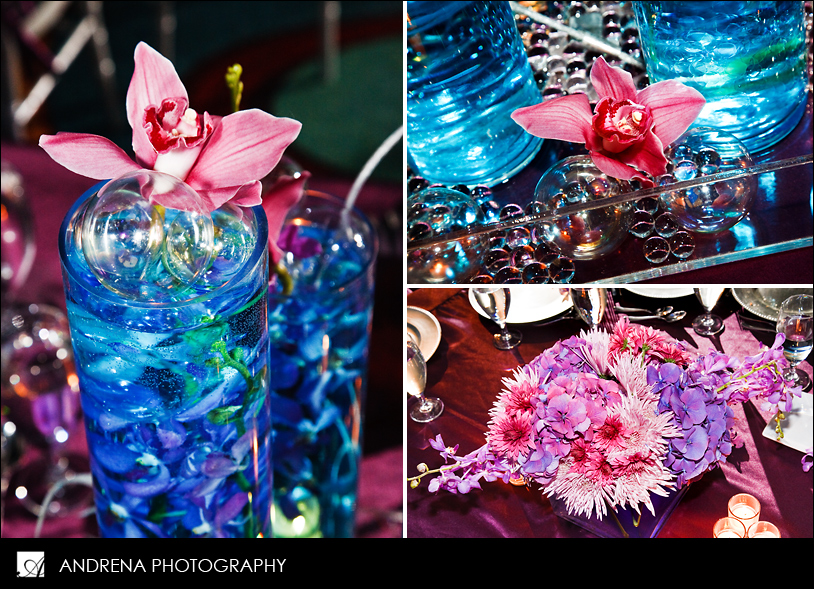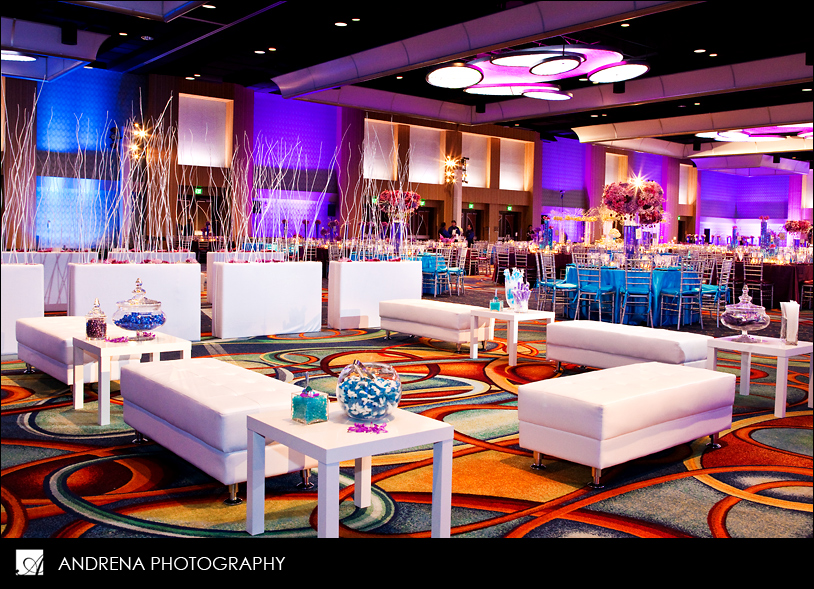 The cocktail party decor was done in reds, with favors in gold boxes.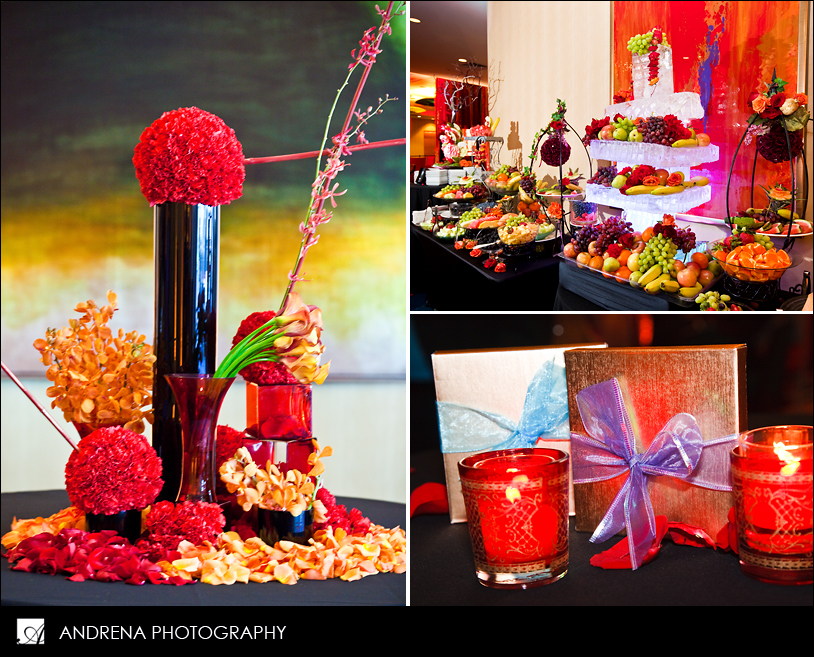 And a bit more on the décor from Shawna Yamamoto, who provided this great info:
"For inspiration, Cinal and Taju said they wanted purple and turquoise, and told me that they loved crystals and manzanita branches. They both wanted a modern yet fresh feels. We talked about hanging some of the trees from the ceiling, practicality suggested that we take another approach, so I needed to create something massive enough to make it feel as if the centerpieces came from the sky. I used the color choices they provided to me to create mini-environments. The mini-environments helped the 900 guests feel as though they were at a party for 150 (hence, the nine centerpieces).
As we brainstormed the cake, I wanted to take their "up for anything" ultra modern mindset and change up the idea of a wedding cake. I knew I didn't want it to be like anything we had seen before, so I thought, 'Why not have two stands, and then have them work in harmony together, creating a 3D art piece using cake and other pieces that fit in with the décor?' So I took pieces of the centerpieces and just went for it. Beverly's Best Bakery was great to work with, and their mini cakes came together beautifully."