I'll admit that 2010 was a busy year, but I guess I didn't realize how many weddings hadn't yet ended up on my blog. My eternal apologies to all my beautiful brides and awesome grooms.
Nimisha & Tom
As seen in the Winter Issue of South Asian Bride Magazine
Venue: Ritz-Carlton, Laguna Niguel
Coordination: Paula Laskelle at Champagne Taste
Florals and Mandap: Alex and the team at Square Root Designs
Lighting: Amber Event Production
Videography: Aron and Robert at Reel Life Pictures
DJ: Sound Nation
What do you get when you combine a church, a mandap and many bottles of vodka? Well, if you're Nimisha and Tom, you get a high-style celebration that honored both the bride's Indian / Sri Lankan heritage and the groom's Polish heritage. The site of this epic celebration was the oceanfront Ritz-Carlton in Laguna Niguel, California, and since the wedding took place just as winter was creeping in, Nimisha and Tom opted for a winter wonderland décor scheme complete with after-hours club.
The big day started out with a Catholic ceremony at a nearby church. Nimisha then changed into her rose-colored lengha so she could join Tom at a flower-adorned Plexiglas mandap overlooking the ocean. Tom entered the mandap area in a horse-drawn carriage accompanied by the USC Trojan Marching Band. The USC band's outfits didn't strike the chord that the couple was envisioning for their baraat, so they had custom outfits made in India, and the band looked great.
For the reception, Nimisha and Tom chose white flowers atop blue linens because they wanted something modern, elegant and reminiscent of the beach. Nimisha also liked the idea of doing something that her guests wouldn't ordinarily see at an Indian wedding.
During the reception, Tom's parents did a Polish toast that involved singing a song about "100 years of good health" as well as downing several shots of vodka. They also put salt on bread. This salt was to remind the couple that "if they taste bitterness, they can overcome it," and the bread was a wish for them "to never go hungry." The last part of the toast involved two shots – one of water and one of vodka. The bride and groom each chose one and downed it, and whoever got the vodka would then have the upper hand in the marriage. Tom got the vodka shot.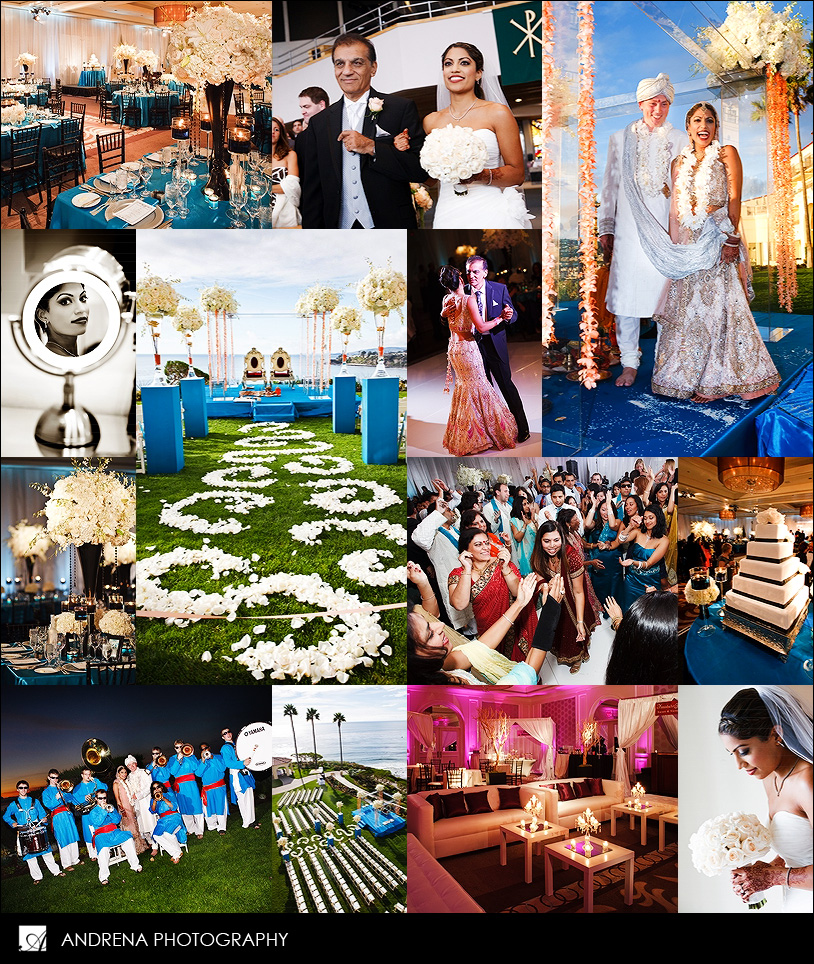 Cheryl & Ash
Venue: Long Beach Hyatt
Coordination & Decor: Neha Shah at Blue Lotus Insights
Hair & Makeup: Jeannie Jeffries at Couture Beauty Team
Mandap and Florals: Flowers by Manjit
Lighting: Amber Event Production
Ash is quite the tall fellow, so when he met Cheryl, who is also very statuesque, he couldn't help but tell his friends, "Hey! I met a really tall Indian girl!" This couple is just the sweetest, and they clearly dote on one another. When I released the proofs gallery to Cheryl, she burst out crying, as reliving her wedding made her truly emotional. Her emails back to me (through tears) were incredibly endearing. This wedding featured one of the more original details I've ever seen at a wedding. The couple had pharmaceutical bins (the plastic kinds that you see at pharmacies) full of prescription bottles, which were in turn full of Skittles. Each bottle was a place card, telling people where they were sitting. I have no idea why I didn't include a photo of this cute detail in the image collage below, but I'll be sure to post a pic of that soon.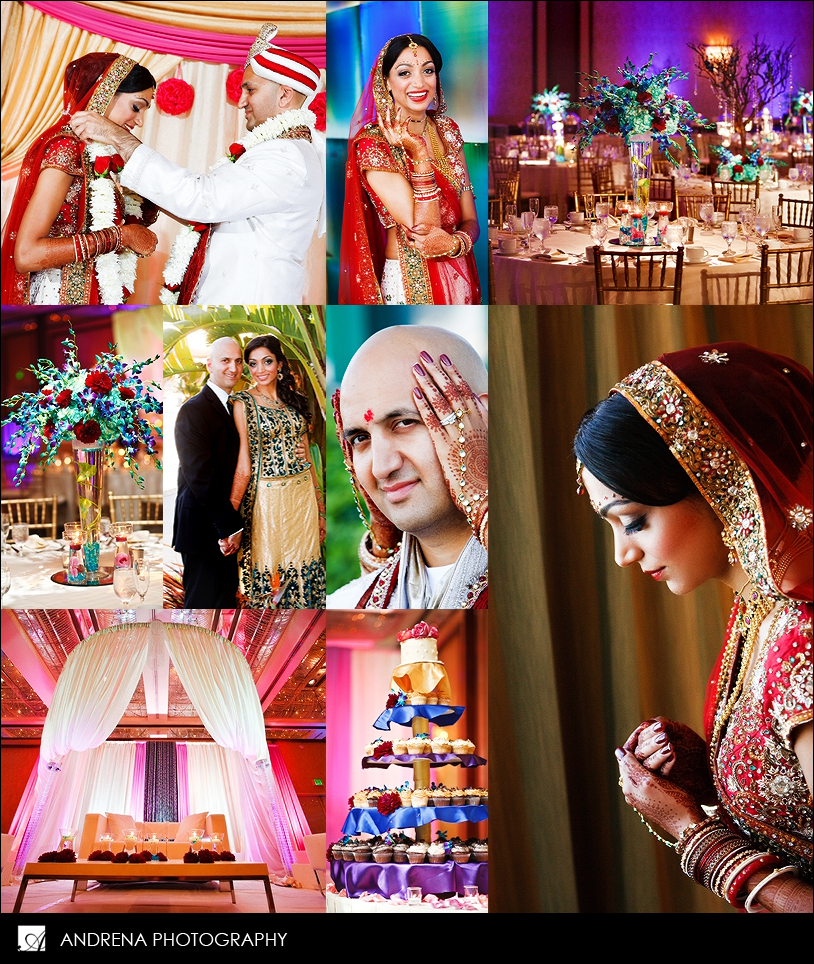 Neelam & Gaurav
Venue: The Ritz-Carlton, Marina del Rey
Coordination: Mary Sushinski at Occasions
It didn't just threaten rain all morning. It actually rained for just a few minutes, right after the start of the ceremony. Guests went running, but after a patient wait through 15 minutes of showers, the dark skies relented, and the ceremony continued in the Ritz-Carlton Marina del Rey's beautiful rose garden. Neelam looked so beautiful walking down the aisle, and the tears in her eyes served to underscore how much she'd been looking forward to marrying the love of her life.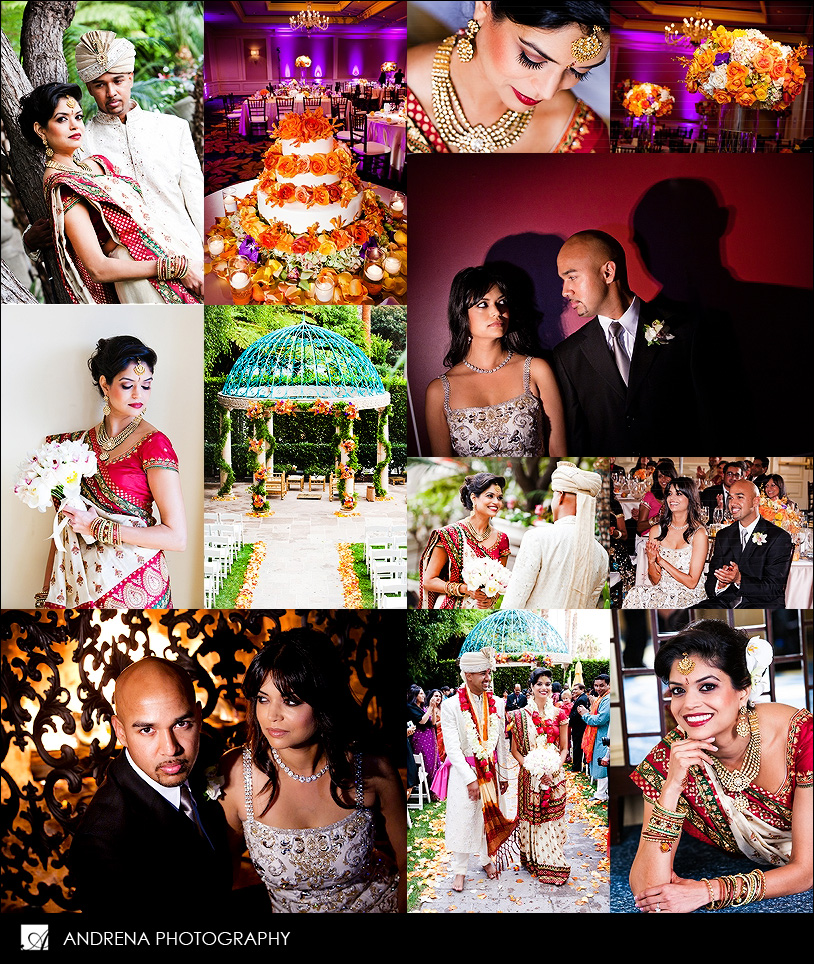 Winter Tabletop for South Asian Bride
As seen in the current issue of South Asian Bride Magazine, out now
Venue: SLS Hotel, Beverly Hills
Floral Artistry: Shawna Yamamoto
Coordination: Sonia Sharma at Sonia Sharma Events